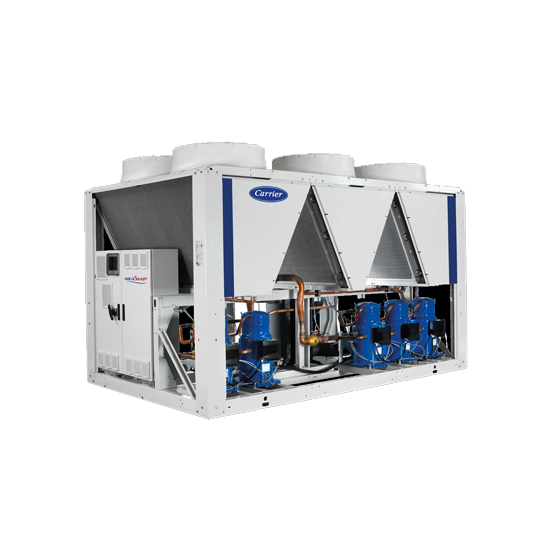 SCROLL CHILLERS AND HEAT PUMPS WITH AIR COOLED CONDENSER AND GREENSPEED® INTELLIGENCE
Low environmental impact
High full and part load efficiency
Compact and simple to install
Low refrigerant charge
Superior reliability
Aquasnap® heat pumps and liquid chillers are the best solution for commercial and industrial applications where installers, engineering and design departments and building owners require reduced installation costs, optimal performances and maximum quality.
The latest generation AquaSnap® is available in two new versions:
– The AquaSnap® (30RB-30RQ) version is a compact all-in-one package optimised for full-load applications where reduced investment cost (low CapEx) is required.
– The premium AquaSnap® version with Greenspeed® intelligence (30RBP-30RQP) is optimised for part load applications where a high SEER, SEPR, SCOP or IPLV value is required. This version is equipped with a variable-speed pump and fans, providing premium part load efficiency to reduce maintenance costs over the lifespan of the chiller. In addition, the sound levels achieved under the part load conditions are particularly low. Besides operating efficiently and quietly, the AquaSnap® range with Greenspeed® intelligence operates from -20 °C up to +48 °C as standard.